The amount that students improve on SAT or ACT after preparation varies based on the combination of our work and the investment of the student in the process. Ace It Test Prep's proven methodology has helped students achieve tremendous score increases throughout the years. Upwards of 600 points on the SAT or 7 composite points on the ACT is achievable. Our method works, how badly a student wants to improve and how hard they work will determine how high they can rise in the process.
The figures below reflect the averages of reported results from students each year. Some students may be missing from the calculation due to failure to report their scores to us. Since the point of preparation is increasing scores, that increase is reported instead of the actual score achieved.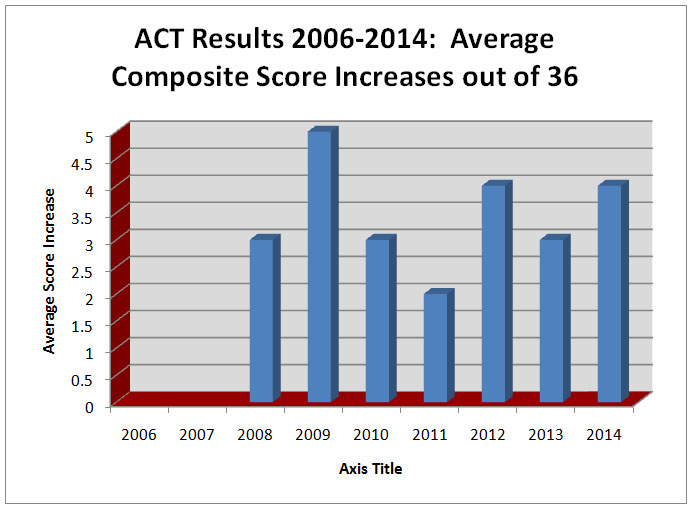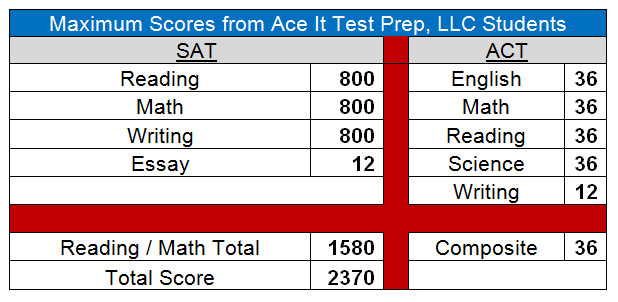 For students who are not able to pass the graduation tests (previously FCAT) that are required, there is a corresponding SAT or ACT score that they can achieve to be able to graduate. These results are for those students who work with us simply to get those required scores.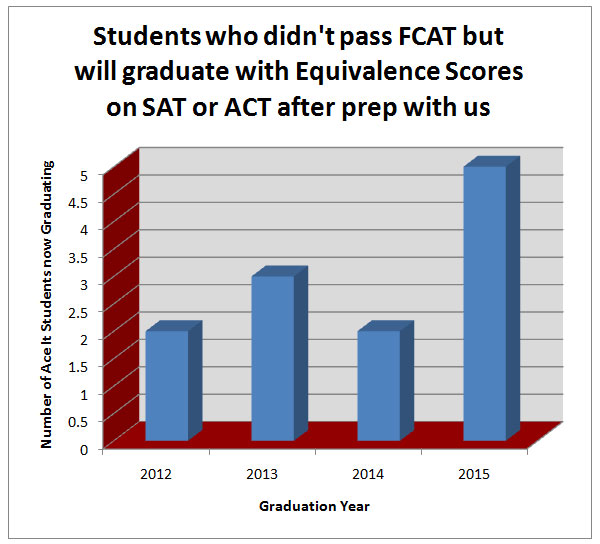 2015-2016 College Consulting Results
| Student | Admitted | School | Other Notables |
| --- | --- | --- | --- |
| AN | Duke early | 1st | No other apps completed |
| SD | Duke early | 1st | No other apps completed |
| RB | Middlebury early | 1st | No other apps completed |
| VL | Princeton early | 1st | No other apps completed |
| JL | UF | 1st | Alabama, UF, NC State |
| RR | UF | 3rd | UCF, FAU honors, UF, Miami waitlist |
| AM | Notre Dame | 1st | Tulane, Notre Dame, Miami |
| PN | Miami | 1st | Tulane, Miami, Richmond Presidential Scholar |
| RA | Stanford | 1st | Deferred Stanford EA, Carnegie Mellon, ND |
| KA | Richmond EA | 2nd | Denied Vanderbilt ED |
| LB | BC | 3rd | BC |
| CR, JM, CW, FG, MR, MJ, NP | UF | | |
| GG | UF | | Miami, FSU, UF |
| MU | Miami Foote Fellow | 1st | SMU, TCU, Tulane, Miami |
| MW | Emory | 3rd | |
| MD | Cornell | 2nd | Ga Tech, RPI, Clemson Honors, Cornell, Michigan, Columbia waitlist, Stanford rejected, Duke rejected, Vanderbilt rejected |
| EK | GA Tech | 2nd | GA Tech, UF, FSU |
| LP | US Naval Academy | 1st | |
| PM | UCF | | |
| NM | FSU | 1st | FSU |
| DH | Emory | | Denied Columbia, Deferred Georgetown |
| MT | Miami | | Elon, Miami, UF |
| AA | UF | 1st | UCF, FSU, USF |
| NG | UF | 2nd | |
| RT | UCF | 1st | UCF |
| AS | FSU | 1st | USF, UCF, FSU |
| DO | ERAU | 2nd | ERAU, FIT |
| GS | UF | 3rd | UT Austin, UCF, UF |
| DW | FSU | 1st | |
| AG | | | Tenn, Bama, South Carolina |
| MK | UF | 4th | UGA, UF, UT Knoxville, Berry, waitlist – Davidson, Franklin & Marshall |
| SS | Wake Forest | 2nd | SMU, William and Mary waitlist |
| LG | OU | 1st | LIU Post, Chicago College of Performing Artsat Roosevelt U., Marymount Manhattan college, Rochester College, SCAD, Helmerich School of Drama at OU |
| JC | FGCU | 1st | FGCU |
| KA | Richmond ED 2 | 2nd | Denied Colgate EA |
| HL | FSU | 1st | Montana State, Stetson |
| JU | UF | 1st | |
| SH | Miami | 1st | Miami, FSU, Stetson |
| EY | Ball State | 1st | Penn State honors, Ball State |
2014-2015 College Consulting Results
Student

Admitted

School

Other Notables

SM
Miami early
1st
No other apps completed
BR
UF Honors
Deferred Stanford early, waitlist Tufts, waitlist Harvard
TK
Northeastern Honors
(44K yearly)
3rd
Deferred Harvard early, Northwestern, Emory, Babson, Bently, NYU Stern, Brown, Cornell
JA
Rice
1st
Deferred Dartmouth early then admitted regular, Wash U, Miami Hammond Scholarship, Vanderbilt, Rice, Case Western
AM
UF honors
Denied Dartmouth Early, UChicago deferred early, , Miami early with 20K
NH
West Virginia with 14K a year
3rd
UK, Ohio State, South Carolina, Miami, UF UVA & Duke Denied
MH
Dartmouth
Yale deferred early, USC accepted NMS finalist there, UF, NYU, Dartmouth waitlist
EG
Duke early
1st
No other apps completed
SV
West Point
1st
Airforce Academy, FSU, Furman, Emory deferred, Notre Dame deferred
MH
UF
Denied Emory early
GC
Stetson with lots of money

Denied Dartmouth Early

CB
Drexel Honors
3rd
Villanova , Deferred Gtech early then waitlisted, Tufts waitlist, Leheigh
SS
UF
College of Charleston, Baylor, LSU, FSU, USF, UCF, University of Tampa , Eckerd College, St Johns, Stetson, UF
ML
George Washington
4th
V
FSU
UF
BR
UF
1st
Purdue
2013-2014 College Consulting Results
| Student | Admitted | School | Other Notables |
| --- | --- | --- | --- |
| A | GTech Honors | 2nd | UCSD, UVA |
| S | Furman | | Elon, Stetson |
| D | Washington University | 2nd | New College, Brandeis, U. Chicago waitlist, Tufts waitlist |
| L | GTech | | GTech, UCSD Jacobs Engineering School, Duke waitlist, Vandy waitlst |
| H | Miami | | Miami, NYU, UF |
| J | Princeton | 1st | Brown, Duke, Emory, Colgate, UF, Miami |
| B | Skidmore | | Furman, U Maine, UNH, Allegheny, UVM, Elon, Rhodes |
| R | Columbia | | Dartmouth, UF, Harvard waitlist |
| E | Tulane | | USC, BU |
| P | Johns Hopkins | | MIT deferred, Dartmouth waitlisted |
| C | UF | | SMU, Texas A&M, UF, FSU |
| Z | UF Honors | | UF |
| M | FSU | | FSU, UNF, UCF |
| L | Furman | | Wake, Elon, UF, FSU |
| O | NCSU grad school – 1st choice | | NCSU grad school – 1st choice |
| A | FSU | | Alabama, Furman, Stetson, Ohio State |
| P | UF | | FSU, USF, UCF |
| B | UF | | FSU, USF, UCF |
| G | FSU | | UCF, USF |
2012-2013 College Consulting Results
| Student | Admitted | School | Other Notables |
| --- | --- | --- | --- |
| E | Harvard | 1st | Yale (E), Stanford, Vanderbilt |
| A | Duke | 1st | Early - no other apps submitted |
| M | Richmond | 1st | Early - no other apps submitted |
| B | Columbia | 1st | NYU, UF, FSU |
| A, A | Miami | 1st | |
| P | UM 7yr med | 4th | Emory |
| T, R, M, I | UF | | Various |
| R, E, J | FSU | 1st | UF, UF |
| A | Elon | 1st | American, San Diego State |
| K | Furman | 1st | Richmond (E-deferred) |
| B | Williams | 2nd | |